¿Queer Tango Futures? – New Deadline: 31st Jan 2021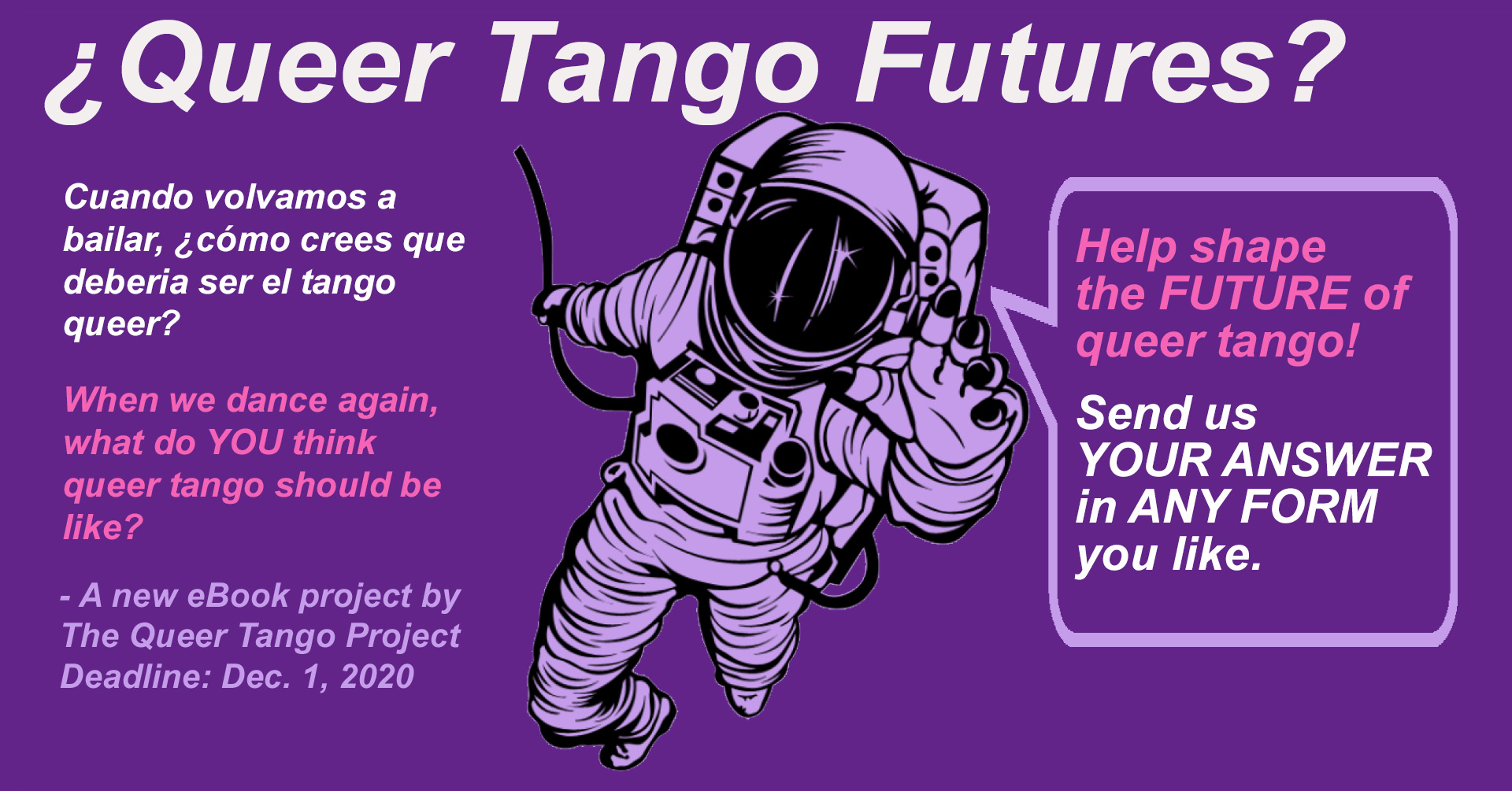 What should queer tango be like in the future?
Open call: The Queer Tango Project is asking for answers in almost any format to this question to go into 'Queer Tango Futures' – its next eBook intends to help shape the future of queer tango. We welcome submission in English and Spanish.
The Deadline for submissions is 31st January 2021.
Write to us: queertangofutures@gmail.com and include a 150 word biography in your submission.
Queer tango is dancing with an overt, political agenda. Like the world into which it emerged some 20 years ago, it has certainly changed, but has it improved? Has it kept pace with wider social and political developments? If we are to dance queer tango in the age of #MeToo and Black Lives Matter, and in a climate increasingly disfigured by hostile, homophobic populist politics, should we urgently be updating queer tango's political objectives, dancing differently and re-organising ourselves to be more effective in achieving them?
Covid-19 forced almost all of us off the dance floor. We can use this time to think hard about what we do, why we do it and how best to plan for the changed world which will face us, once the threat of Covid retreats.
What should we carry on doing like before?
What should we stop doing?
What should we do differently?
What do YOU think?
Any ideas? If you have, or even if you would just like to air some views on this, contact us at The Queer Tango Project! We would love to hear from you.
This book project is a non-profit and no-budget book project. We are looking to create a lively collection of discussion pieces, essays, poems, vision boards, artworks – you name it! – about where we go from here. It will be a collection of works from dancers for dancers. No piece is too short to get full the attention of The Queer Tango Project team.
¿Y en español? ¡Si! Este libro incluirá material en español y en inglés. Mori Plaschinski is our Spanish language editor. Any questions? Ask us!
Private message Birthe Havmøller, Mori Plaschinski or Ray Batchelor on Facebook
Or email Ray Batchelor: ray.queertango@gmail.com, Mori Plaschinsk morifdp@gmail.com or Birthe Havmøller at havmoeller@gmail.com
About the Editors:
Birthe Havmøller (DK): I am a dual role tango dancer (since 2009), independent editor, visual artist and queer arts activist. In 2003 I launched Feminine Moments, an international resource site and art blog about fine art made by lesbian, bisexual and queer feminist artists. In 2013 I initiated The Queer Tango Project which started as a book project and now is much more. I co-edited our first publication, The Queer Tango Book (2015) with Ray Batchelor and Olaya Aramo and I am the editor of The Queer Tango Project website and co-moderate The Queer Tango Conversation with Ray Batchelor and Maite Dobaro.
Ray Batchelor (UK): I am (in 'normal times') a queer tango dancer, teacher (the simple stuff), activist, author, independent scholar and historian. A tango dancer since 2003 and part of Queer Tango London since 2011, I remain a member of the Queer Tango London Team. I work with Birthe Havmøller on The Queer Tango Project, which I contribute to and co-edit our publications, curate the Queer Tango Image Archive, and contribute to and co-moderate The Queer Tango Conversation discussion forum on Facebook. I recently (2020) published an anthology of queer tango conference papers, 'Queer Tango Histories'. I work closely with Peng Newman organising London's popular Tango on the Thames milonga.
Mori Plaschinski (Mexico): Tango came into my life when I was 12 years old and it captured me. Now, I enjoy dancing tango in all forms, in all freedom. I am an LGBT+ activist, feminist, physical theatre creator and tango explorer. I have danced my queer tangos around the world, falling in love with Buenos Aires, and expanding my dancing passion to Argentine Folklore (And yes, Queer Folklore too!). In my travels, I have collaborated with LGBT+ organizations such as The Kite Trust in the UK, developing artistic and cultural projects for young people from the LGBT+ community. In Buenos Aires, I directed the play "Los Pájaros del Yokubo" showing local stories about gender and sexual diversity, with touches of Tango and Zamba. Now I live in Amsterdam, I am a translator, researcher and an activist in youth networks for peace.
About the Queer Tango Project:
The Queer Tango Project supports the Queer Tango community around the world in developing critical ideas, stimulating debate and resources about how and why Queer Tango is danced. We publish free eBooks about queer tango. The Queer Tango Project was founded in 2013 by Birthe Havmøller. We have a website with a video blog, a calendar listing queer tango festivals around the world and Facebook group: 'The Queer Tango Conversation'.
Related Link