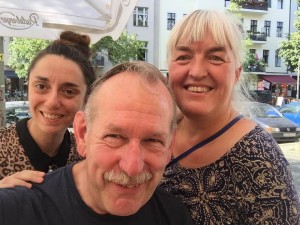 The Queer Tango Project
supports the Queer Tango community around the world in developing critical ideas, stimulating debate and resources about how and why Queer Tango is danced. We encourage the queer tango movement to reflect on itself and hope to draw together and give voice to both queer tango academics, activists and dancers. We also work on reducing the "Spanish-English" language and cultural divide in Queer Tango.
It started as the Queer Tango Book Project founded by Birthe Havmoeller in 2013 and as our ideas grew we decided that it was time to re-named the website: The Queer Tango Project in 2015. The Queer Tango Project Team are Olaya Aramo (ES), Ray Batchelor (UK) and Birthe Havmoeller (DK).
Open Call – Join the Queer Tango Project Team
With our Open Call for proposals and human resources (running in 2017) we invite you make a difference by sending the Queer Tango Project a PROPOSAL which you would like to help realise.
The Queer Tango Project's current activities:
The Queer Tango Book
The Queer Tango Team, Birthe Havmoeller, Ray Bachelor and Olaya Aramo published The Queer Tango Book – Ideas, Images and Inspiration in the 21st Century (2015). The Book is the first of its kind: a unique, international anthology of writings and artworks about Queer Tango from dancers, activists, academics, artist and others, some of whom are key figures in the Queer Tango movement. We are working on a Spanish edition of The Queer Tango Book to be published in 2018.
The Blog
We have created a Queer Tango blog where we share Queer Tango videos, articles and pieces of news about Queer Tango events. If you have materials which you would like us to share at the blog, do write to us.
The Queer Tango Image Archive
The Queer Tango Image Archive is a digital collection of historical, pre-1995, images which relate to the themes and issues touched on by Queer Tango. The curator is Ray Batchelor. The Archive provide a virtual space where these historical images can be seen in one place. The Archive is our first satelite project.
The Queer Tango Conversation at facebook
If you are a dancer, an activist, author, academic or an artist or all or any of these or in any other way interested in Queer Tango, we invite you to air your views here, to start discussions, raise issues, ask questions, respond to comments and compare your experiences with others around the world contributing to The Queer Tango Conversation.