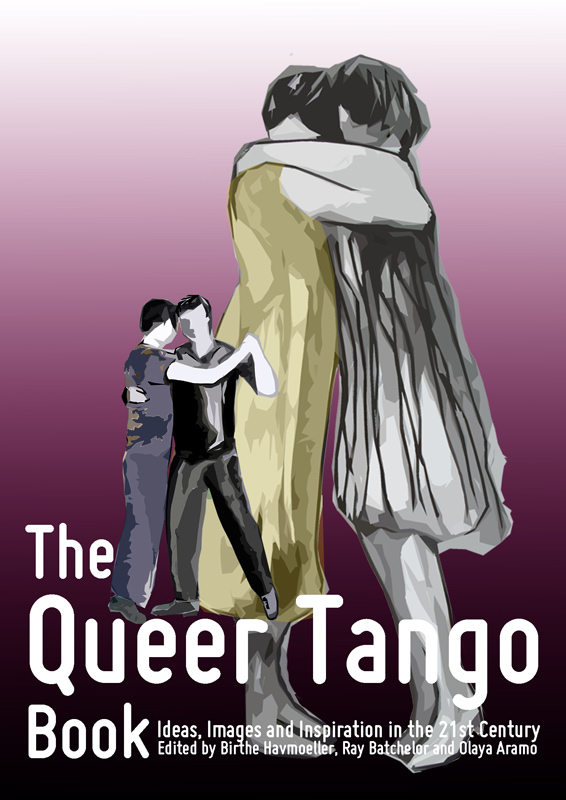 Download your free copy of the ebook:
The Queer Tango Book – epub (2.4MB)
The Queer Tango Book – PDF (4.2MB)
About The Book
The Queer Tango Book – Ideas, Images and Inspiration in the 21st Century is the first of its kind: a unique, international anthology of writings and artworks about Queer Tango from dancers, activists, academics, artist and others, some of whom are key figures in the Queer Tango movement.
Contributions range from personal experiences, to opinion pieces, to outright polemics, setting out what it can be, could be or should be. Above all, it captures and documents something of the spirit of Queer Tango with a view to stimulating further debate and social dancing. As contributors to The Queer Tango Book vividly demonstrate, the effects of some of the creative ideas originating within and supporting the LGBT community, are now felt beyond it, challenging, changing and enriching how the Argentinian tango is danced in the 21st century.
The Queer Tango Book – Ideas, Images and Inspiration in the 21st Century
Edited by Birthe Havmoeller, Ray Batchelor and Olaya Aramo
Published by Queertangobook.org, March 2015
Ebook and PDF
ISBN 978-87-998024-0-1 (HTML)
ISBN 978-87-998024-1-8 (PDF).
The dancers, writers and artists who are sharing their insights in The Queer Tango Book:
Alex Gastel (Germany), Alice Heigh (Russia), Belén Castellano (Spain), Birthe Havmoeller (Denmark), Carlos Blanco (Mexico), Carolina De Beus (Belgium), Chelsea Eng and Tango Con*Fusión (USA), Claudio Gonzalez (Argentina), Con Artist (USA), Denise Lew (England), Edgardo Fernández Sesma (Argentina), Gigi Gamble (USA), Guilia Cerulli (Italy), Helen 'La Vikinga' Halldórsdóttir (Iceland/Argentina), Hilda Hisas (Argentina), Juliet McMains (USA), Kristín Bjarnadóttir (Sweden), Laura Valentino (USA/Iceland), Laurie Ann Greenberg (USA), Marc Vanzwoll (USA), Mariana Docampo (Argentina), Miguel Kanai (USA), Mila Morandi (Italy), Natalia Merkulova (Russia), Olaya Aramo (Spain), Paul Fairweather (England), Ray Batchelor (England), Sasha Cagen (USA), Sofía Silva (Spain) and Susana Romero (Argentina).
xx