Queer Tango Futures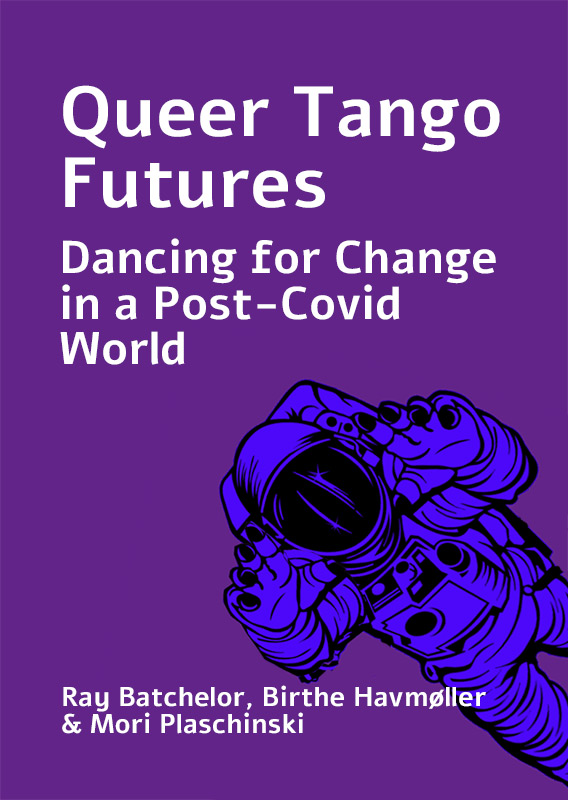 Download your FREE copy of the eBook:
Queer Tango Futures epub (2.0 MB) – download from Google Drive
Queer Tango Futures PDF (8.3 MB) – this is a print-friendly version, download via your browser.
Paperback version
Read more: Queer Tango Futures – Paperback version of the book on Amazon
About the Book
Queer Tango Futures – Dancing for Change in a Post-Covid World is a Queeer Tango Project Publication.
With answers hammered out while the Covid Pandemic was at its height, Queer Tango Futures: Dancing for Change in a Post-Covid World asks the question, when we CAN dance again, how should we do queer tango in a Post-Covid world – "do", because queer tango is always dancing (the most important part) AND the discourses – like this book – which, in "normal times" accompanies the dancing. This vibrant anthology includes a delightful range of forms – from high-quality papers academic in style, to deeply personal, reflective pieces to works which are playful in their approach to language. But with contributions in both English and Spanish, this collection is not confined to the written word, but includes a striking collection of artworks ranging in style from the comic to the abstract.
Queer Tango Futures – Dancing for Change in a Post-Covid World
Edited by Ray Batchelor, Birthe Havmøller and Mori Plaschinski
Published by Queertangobook.org, June 2021
Ebook and PDF
978-87-998024-3-2 (HTML)
978-87-998024-4-9 (PDF)
The dancers, writers and artists who share their visions in this anthology are:
Adriana Pegorer (England), Alessandro Tampieri (Italy), Alex Pachecho (Mexico), Arno Plass (Austria), Barbara Grabinski (Argentina), Birthe Havmøller (Denmark), Ces (England), Danay Labraña (Mexico), Edgardo Fernández Sesma (Argentina), Gabriel Cagnune (Argentina), Henny Stridsberg (Sweden), Jamie Roberts (Russia), Jennie Lindon (England), Juliet McMains (USA), Liz Sabatiuk (Spain), Loris Coen (Italy), Marc Vanzwoll (Switzerland), Malin Backström (Sweden), Nicole Roberts (Argentina), Patricio Arquero (Chile), Ray Batchelor (England), Sasha Vybornoff (Russia), Sophie Karadjoff (France), Stan Holman (Canada), Silvia Bruzzone (Sweden), Útera Tanguera Colectiva (AKA Camila Zúñiga, Constanza Urzúa, Loreto Ledezma, María José Albornoz, Vania Berríos, all based in Chile) and Vincent Hodin (France).
About the Editors:
Ray Batchelor (England): I am (in 'normal times') a queer tango dancer, teacher (the simple stuff), activist, author, independent scholar and historian. A tango dancer since 2003 and part of Queer Tango London since 2011, I remain a member of the Queer Tango London Team. I work with Birthe Havmøller on The Queer Tango Project, which I contribute to and co-edit our publications, curate the Queer Tango Image Archive, and contribute to and co-moderate The Queer Tango Conversation discussion forum on Facebook. I recently (2020) published an anthology of queer tango conference papers, 'Queer Tango Histories'. I work closely with Peng Newman organising London's popular Tango on the Thames milonga.
Birthe Havmøller (Denmark): I am a dual role tango dancer (since 2009), independent editor, visual artist and queer arts activist. In 2003 I launched Feminine Moments, an international resource site and art blog about fine art made by lesbian, bisexual and queer feminist artists. In 2013 I initiated The Queer Tango Project which started as a book project and now is much more. I co-edited our first publication, The Queer Tango Book (2015) with Ray Batchelor and Olaya Aramo and I am the editor of The Queer Tango Project website and co-moderate The Queer Tango Conversation with Ray Batchelor and Maite Dobaro.
Mori Plaschinski (Mexico): Tango came into my life when I was 12 years old and it captured me. Now, I enjoy dancing tango in all forms, in all freedom. I am an LGBT+ activist, feminist, physical theatre creator and tango explorer. I have danced my queer tangos around the world, falling in love with Buenos Aires, and expanding my dancing passion to Argentine Folklore (And yes, Queer Folklore too!). In my travels, I have collaborated with LGBT+ organizations such as The Kite Trust in the UK, developing artistic and cultural projects for young people from the LGBT+ community. In Buenos Aires, I directed the play "Los Pájaros del Yokubo" showing local stories about gender and sexual diversity, with touches of Tango and Zamba. Now I live in Amsterdam, I am a translator, researcher and an activist in youth networks for peace.
Related Link
Queer Tango Futures – Paperback version of the book on Amazon