London – Queer Tango Travel Tips!
By Ray Batchelor, Queer Tango in London.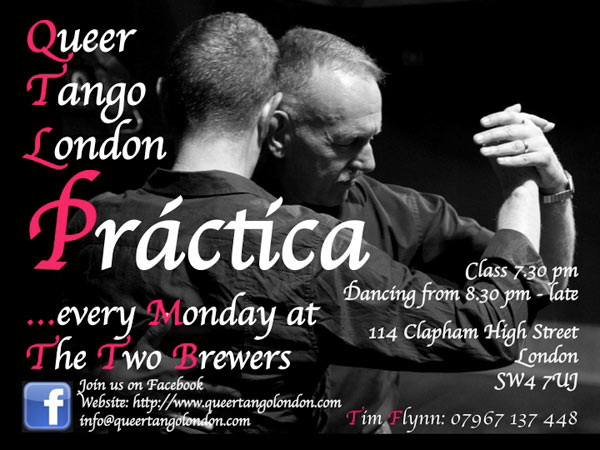 Illustration: Queer Tango in London's flyer.
Coming to London and want to dance Queer Tango?
Start with Tim Flynn's Queer Tango London (QTL) at the Two Brewers, 114 Clapham High Street, in south London – popular classes and práctica every Monday, plus a friendly milonga – El Corazón – once a month. The Two Brewers (pub) is equidistant between Clapham Common and Clapham North tube stations.Check our Facebook Group or website for details. You may want to check out Lora Hudson's Same Gender Tango website, too.
Want to dance queer in the mainstream? Why not?
I write as a man dancing queer in London and the experience for women may differ (but probably not much). I would say that – unlike, say five years ago – all mainstream London milongas welcome Queer Tango dancers. Take a look at QTL's Facebook Group to see if anyone says where they plan to dance, or post there yourself. My personal favourites include: Negracha (Fridays), Tito's, The Dome (both Wednesdays), The Tango Garden (Saturday afternoons) and my west London 'local', Pavadita (Tuesdays and Sundays). The standard of dancing on the London tango scene is generally good and sometimes excellent, with queer and mainstream milongas that are open and friendly. If in London, and dependent on public transport (parking is difficult!), it is best to put the address into Google Maps and choose the public transport option. This will then show you how to get there by any combination of bus and tube which is best, given wherever you are starting from!
Come to London and dance queer with us!