San Fede's Favourite Image from The Queer Tango Image Archive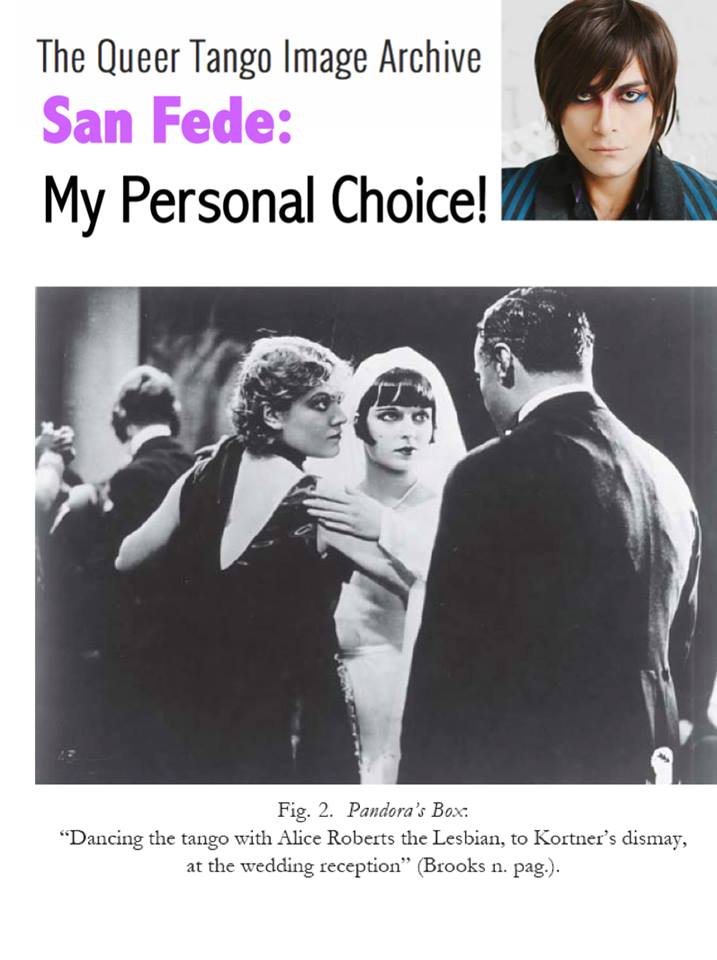 Who likes what – and why?
Our next "Guest Curator" is San Fede, leader of the Team organising the justly celebrated festival in Paris coming up in June, La Vie en Rose.
Fede says: 'For the third La Vie en Rose festival, we chose as our theme the 'Golden Age' in order to pay homage to a period in our history that had seen peaks of achievement in the arts, literature, architecture, painting and so on, a nostalgia for a glorious past where homosexuality certainly played a major role. What I like in this photograph is the hidden symbolism behind the situation: the pervasive patriarchy acts as a sort of 'gender police' that monitors any attitude judged deviant. Both women transgress against the dictates of society and confront the imposed order. Moreover, the figure of the ' lesbian Countess', associated with 'fin de siecle' decadence is a common stereotype in Hollywood movies, recently realised by Lady Gaga in the series "American Horror Story". The lesbian Countess is a vampire, a voracious man-eater … According to Donna Haraway, "monsters have always defined the limits of community". So, better a monster than a god or goddess …'
Ref : Dona Harraway 'Manifeste Cyborg'.
San Fede: 'Pour la troisième édition du festival La Vie en Rose, nous avons choisi comme thématique l'Age d'Or pour rendre ainsi hommage à une période de notre histoire qui a connu l'apogée dans les arts, la littérature, l'architecture, la peinture… Nostalgie d'un passé glorieux où certainement l'homosexualité a joué un rôle capital. Ce que j'aime dans cette photographie est la symbolique cachée derrière la situation : le patriarcat omniprésent agit comme une sorte de 'police des genres' qui surveille toute attitude jugée déviante… les deux femmes transgressent ainsi les diktats de la société et se montrent contestataires face à l'ordre imposé.
Par ailleurs, la figure de la 'Comtesse lesbienne', associée à la décadence 'fin de siècle' est un stéréotype récurrent dans le cinéma hollywoodien… Actualisée par Lady Gaga récemment dans la série American Horror Story, la comtesse lesbienne est un vampire assoifé mangeuse d'homme… Pour Donna Haraway, 'les monstres ont toujours défini les limites de la communauté'. Alors, préférons être un monstre qu'un dieu ou une déesse…'
Ref : Dona Harraway 'Manifeste Cyborg'.
See San Fede's favourite image in The Queer Tango Image Archive.