The Queer Tango Image Archive – Call For Imagery
Today, The Queer Tango Project launches The Queer Tango Image Archive.
The Queer Tango Image Archive is a digital collection of historical, pre-1995, images relating to the themes and issues touched on by Queer Tango. Birthe Havmøller, founder of The Queer Tango Project, designed and built the website, and for several weeks, Curators, Ray Batchelor in London, UK and Gonzalo Collazo in Montevideo, Uruguay have been uploading images like these onto The Gallery.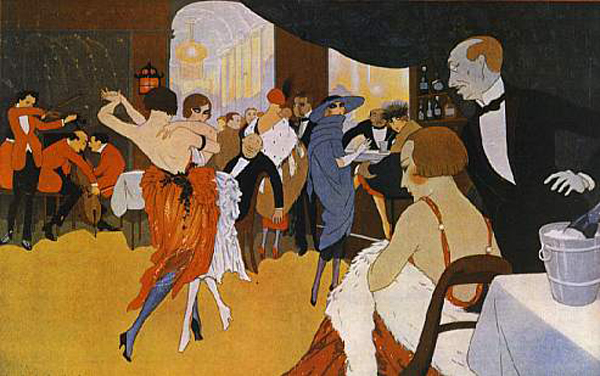 En el Cabaret by Fabius Lorenzi, 1920s?
Our over-arching aim is to stimulate debate and support the development – and the dancing – of Queer Tango!
Gonzalo Collazo, LGBT activist, teacher of tango, physics academic, and founder of Tango Queer Uruguay says:
We want The Archive to provide a resource for anyone interested in tango and Queer Tango alike. We want these images to stimulate fresh thinking about how to set Queer Tango into historical, social, political and other contexts. We see The Archive as part Queer Tango's dynamic evolution.
Ray Batchelor, Queer Tango activist, writer and dance and design historian, adds,
Queer Tango is a 21st century phenomenon partly set up in opposition to historical tango gender norms. In that sense these images do not show 'the history of Queer Tango', but relate to a time before it was conceived of. And yet they show that gender relations in tango were often more complex, more varied and much more interesting than the 'man dominating a woman' model of the popular imagination. To that extent, they illuminate many of the key themes which animate 21st century Queer Tango.
Studying images from the past makes us think again about how and why we dance Queer Tango today. We hope you will enjoy browsing through these images.
The Queer Tango Image Archive is a not-for-profit organisation.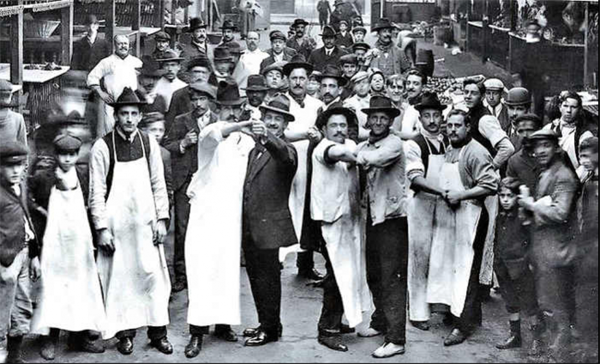 Market Traders at Abasto, Buenos Aires, c 1910.
How you can help!
From now until September 2016, we are running a "Public Development Phase' of the Archive. If you want to, there are ways you can help create it:
Share this link with anyone you think is interested – in the coming months, we aim to let as many people know about the Archive as possible, so we would be happy for you to let others know about it.
Leave comments about the images – It is not always obvious what these images mean. We invite you to leave your comments. A wide range of perspectives – including yours – will stimulate debate and help everyone better understand these images.
Send in your own historical images – Do you have an image you think others will be interested in? Submit it to the Archive using the "Submit an image" button on the website. You will be credited as the source and it will be of greater value alongside other interesting images.
Help us build The Archive – Become a Queer Tango Image Archive Contributor. We need help creating new image posts from the images sent to us in The Archive Gallery. As a Contributor, we will give you simple guidance about how to create posts – and you will be among the first to see each image as it arrives.
September 2016: A stable, sustainable Queer Tango Image Archive
With your help, we aim to expand The Queer Tango Image Archive by adding to the images, increasing the number of visitors, as well as ironing out any developmental wrinkles in our working practices, so that everything works smoothly. We will be listening to see what interests people.
We will be working out how best to stimulate debates that support and inform the global development of Queer Tango in new and interesting ways.
And in September we will review progress and then set about promoting The Archive more widely. If you have any questions about this or suggestions for us, please email Ray and Gonzalo (in English or Spanish) at: curators@queertangoproject.org
Ray Batchelor & Gonzalo Collazo
London, UK & Montevideo, Uruguay
4th April 2016