'A History of Same-Sex Tango Dancing' – Lecture by Ray Batchelor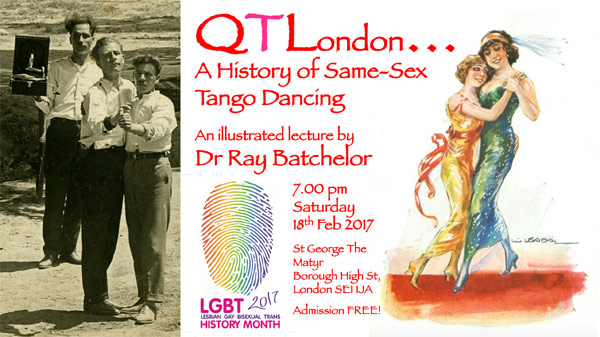 Ray Batchelor, London, says: is there really just "one tango" which we all dance? Or is "queer tango" something new? Or something very old? How can looking at the history of tango help answer these and allied questions? February is Lesbian, Gay, Bisexual, Transexual History Month. As its contribution, Queer Tango London have organised a lecture, "A History of Same-Sex Tango Dancing" given by queer tango historian, and member of the Queer Tango London Team, Ray Batchelor:
7.00 pm on Saturday February 18, 2017
St George The Martyr
Borough High Street
London SE1 1JA
….and plenty of time to go on and dance after!