'Queer Tango Politics: or Why I think as I Do' by Ray Batchelor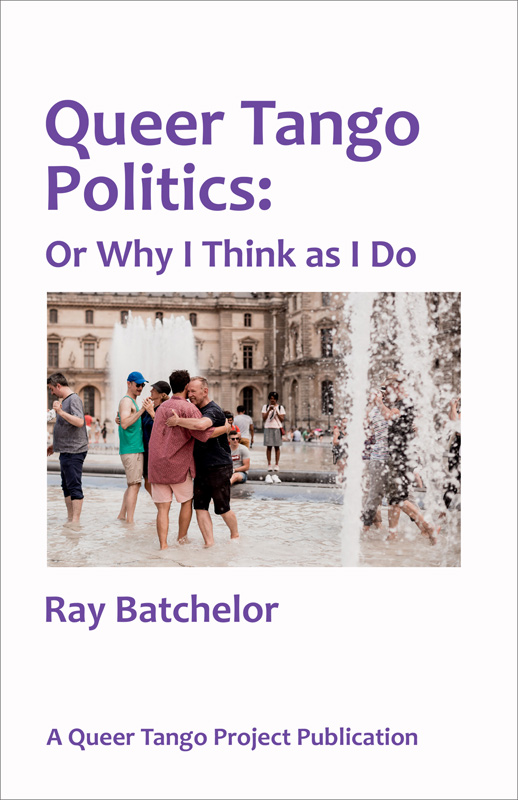 Download your FREE copy of the eBook:
Queer Tango Politics, PDF (4.3 MB)
Queer Tango Politics: or Why I think as I Do
by Ray Batchelor
A Queer Tango Project Publication
Published by Queertangobook.org June 2023
ISBN 978-87-974183-0-7 (PoD)
ISBN 978-87-998024-8-7 (PDF)
To buy a paperback copy of the book
Please select the Amazon site closest to where you would like your paperback copy of Queer Tango Politics delivered: https://www.amazon.com/gp/navigation-country/select-country
About the Book
As the subtitle of this book indicates, this volume is not an analysis of all queer tango politics, but an anthology of Ray Batchelor's personal reflections on them from 2015 to 2022. Batchelor's writings demonstrate in these seven short years that tango, queer tango, the politics of gender and sexual identities and the global social and political contexts have all changed, sometimes radically. The book raises many important questions relevant to both the LGBTQ communities, queer tango dancers and the greater tango world.
The Author's Book Description
Ray Batchelor: On re-reading this collection of papers on the political dimensions of queer tango written between 2015 and 2022, I realise, they offer answers – my answers – to these questions: how and why has queer tango changed in that period? As queer tango began as a critique of the conventions surrounding gender and sexuality found in mainstream tango, it is worth asking in what ways those conventions have changed? To what extent have changes in one informed or supported changes in the other? To what extent are those changes in both realms of tango reflections of or reactions against wider social and political changes in these seven tumultuous years.
These are the writings of a queer tango dancer and activist. Conventional academic publishing can be painfully slow. My primary purpose in writing about queer tango has to make immediate contributions to the debates which surround it, so that we all think more about what we are doing and why. Though I have never been a dance academic, I have been fortunate that dance academia is a broadly welcoming worldwide community. I have enjoyed giving papers at what is now known as the Dance Studies Association based in North America, while the lively events organised by POP Moves, the international research group expressly addressing popular dance and performance has provided opportunities for papers which are "academic" in good ways, that is, rigorous, evidence-based, and not afraid of theory, where theory is useful.
Yet as my last paper looking at queer tango and the War in Ukraine shows, included here are also papers which have arisen from a sense of urgency, where I have written something, because I feel I must.
Personal and sometimes legitimately subjective, Queer Tango Politics is my record of how, as I see it, queer tango has changed in the period covered and is still changing as circumstances evolve – circumstances where if anything, the pace of change is quickening and with it, the need for timely, well-informed reflection.
About Ray Batchelor
Ray Batchelor (UK) is a queer tango dancer, activist, teacher, author, independent scholar and historian. He has been a part of Queer Tango London since 2011, a group that he now leads. He works with Birthe Havmøller on The Queer Tango Project for which he writes and co-edits publications among others, Queer Tango Futures – Dancing for Change in a Post-Covid World (2021) and curates the online Queer Tango Image Archive. He also contributes to and co-moderates The Queer Tango Conversation group on Facebook.
The Queer Tango Project
The Queer Tango Project supports the Queer Tango community around the world in developing critical ideas, stimulating debate and resources about how and why Queer Tango is danced. We publish free ebooks about queer tango. The Queer Tango Project was funded in 2013 by Birthe Havmøller. It is a volunteer run non-profit organisation.