For The First Time Tango Queer in The North of Argentina

Video: (10:59): Augusto Castaño Cevilan and Alexis Alvarado dancing at the VibraTango Tucuman 3º Edicion – Festival de tango en Tucuman, Argentina, 2019. Alexis is leading.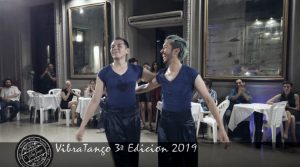 Augusto Ezequiel Castaño Cevilán writes:
For the first Time Tango Queer in the North of Argentina. Salta – Rosario de la Frontera – Tucuman – San José de Metan – Santiago del Estero.
We were born in Santiago del Estero, traditionally it is the land of folklore, the gaucho and its customs. Where for hundreds of years a stereotype has predominated.
Not only were we able to open branches of our tango school and our teaching method for biomechanics, but we were able to break down one more barrier of communication and reach people with dance and our artistic proposal.
For the first time these cities receive the experience of taking Tango classes with a role change from a gay marriage. We feel very welcome in each city. A joy to share with all of you these experience. We have been dancing together for 6 years, and it is the first time that we dare to travel to share our tango with the milonguera community. The people were very generous and respectful of our work.
Now next to our tour of Europe. Italy, Rome, Torinno, Switzerland, Spain, Barcelona, ​​France, Paris, Belgium and Holland
Thank you very much everyone for this online space [The Queer Tango Conversation on Facebook]. We have a lot of hope for a better future.