La Tango – Teaser
Video (2:24): La Tango – Teaser – A sneak preview of some of the electro pop tango classics remade by La Tango aka Pablo García.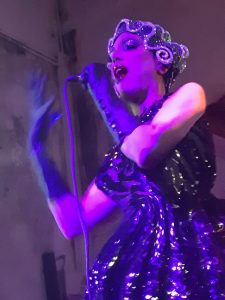 An invitation to sneak up the intimacy of La Tango (on Spotify): a 2×4 diva "very well travelled, but also very well returned". A 10 tango classics concert revisited with an electropop flavor welcome you to hear the stories, reflections and habits of this Signora de la Canción.
A celebration of diversity and an ironic view on the masculinization of women when having to sing a genre full of male clichés. From the instrumentation – stylized into a strong synth pop – till the drag essence of the singer who constantly flirts with humor, emotions, the ambiguity and irreverence of a transgender character.
SONGS: Tormenta – Volver – Garúa – Pasional – Vuelvo al Sur – Malena – Naranjo en Flor – Maquillaje – Tortazos – Uno.
latangodrag@gmail.com
Pablo Garcia: (00 54 9) 11 62224522
Facebook: www.facebook.com/latangodrag
Twitter: @latangodrag
Instagram: @latangodrag