Open Call for Proposals for The Queer Tango Project
Join the Queer Tango Project Team
We would like to develop the Queer Tango Projects in new and innovative ways in 2018
Can you help us improve the Queer Tango Project?
With this Open Call for proposals and human resources we invite you make a difference by sending the Queer Tango Project a PROPOSAL which you would like to help realise.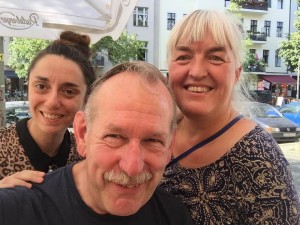 The Queer Tango Project team are Olaya Aramo, Ray Batchelor and Birthe Havmoeller. We run the Queer Tango Project's website (with lots of Queer Tango resources); we created 'The Queer Tango Book' (a free ebook; go to our download page if you haven't downloaded your free copy of the Book) and The Queer Tango Image Archive; we encourage debate on facebook and moderate The Queer Tango Conversation; we are working on a Spanish edition of The Queer Tango Book and we hope to make other publications in the future.
Most of the time we work at home connecting via the internet (email, facebook, skype) but last weekend we met in person in Berlin at the International Queer Tango Festival. This photo was taken after our first team-meeting.
Send your proposals (in English or Spanish) to Birthe Havmøller at havmoeller@gmail.com or send a personal message to any of us via facebook.