Tango in Washington, DC – From Both Sides of the Embrace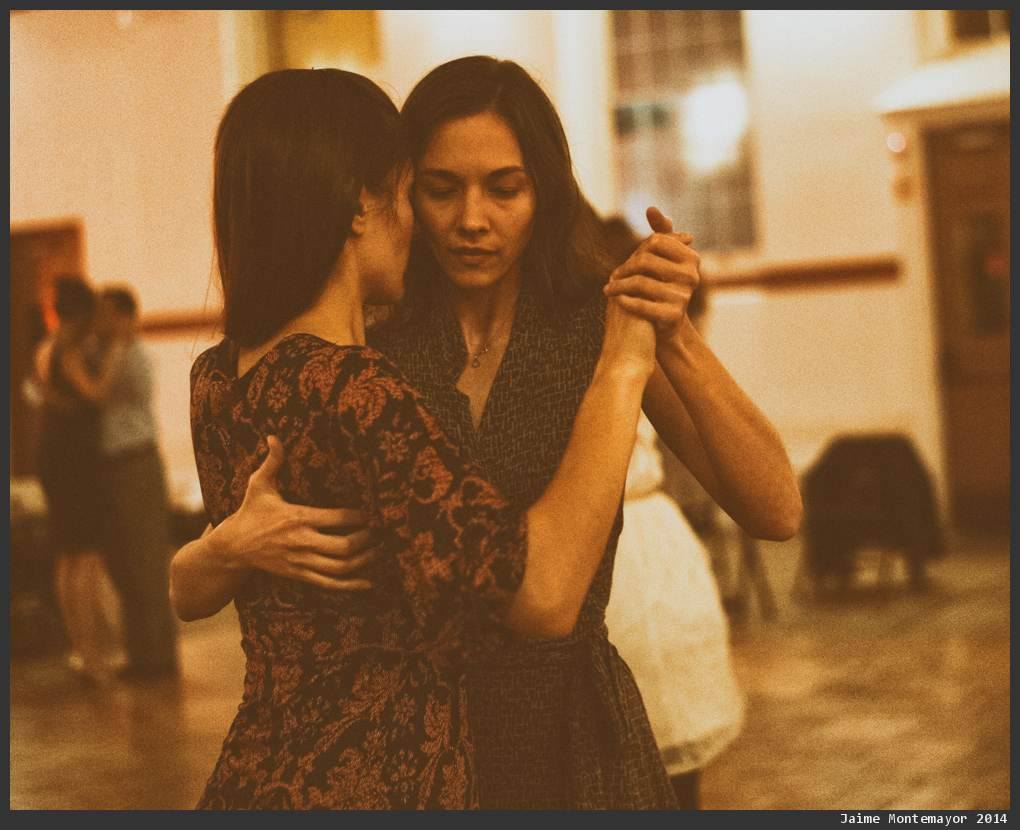 Masha Abapolnikova and Liz Sabatiuk (leading). Photo courtesy of Jaime Montemayor.
Tango in Washington, DC – From Both Sides of the Embrace
by Liz Sabatiuk
After 13+ years exploring Argentine Tango, I just keep coming back to connection. With the present moment. With my partner. With history and culture. With myself. With the tango community – both local and global.
But for most of my tango life I've been aware that the typical norms of the dance can limit possibilities to connect. What if you don't identify in the gender binary? What if you want to dance with someone of the same sex? What if you want to dance the "other" role? These departures from the norm are certainly possible – I regularly lead and dance with other women at milongas and in classes – but they're not always easy or comfortable.
Washington, DC, has the highest proportion of people who identify as LGBT of any city in the U.S. The city also has a thriving tango scene with multiple events every night of the week – yet there are few or no tango events or venues expressly for the LGBTQ community. My sense is that mainstream tango in DC is similar to tango in many other places today: It's usually fine to dance outside the box, but there are lots of norms that make it harder.
I've teamed up with local non-profit organization Tango Mercurio to make dancing without these norms a little easier. Tango Mercurio is named for Mercury, an ancient symbol of connection. With our Queer Tango Program, we hope to offer this powerful dance of connection to new communities while enriching the existing tango community in the process. Our first step is to offer a weekly Queer Tango Initiation class + práctica at local community arts space BloomBars. From there, we'll see what we can build!
The primary way we're de-gendering the roles in our Queer Tango Initiation is simply by structuring the classes for every student to learn both roles. While I certainly wouldn't say this is the only way to queer tango, it qualifies to the extent that we define queering tango as decoupling the roles from biological sex or gender identity. The curriculum is similar to classes I've taught in the past, presenting basic vocabulary and concepts related to technique, connection, and musicality.
We've only had two classes so far, but I've already gotten feedback from folks who say they wanted to try tango in the past but had a bad experience or just didn't feel it was really for them. I hope to create a safe, inclusive space where anyone can dance with anyone (consensually, of course!), free from norms and assumptions around biological sex, gender identity, or sexual orientation.
If we're successful, we'll nurture diversity in the local tango community and offer dancers new opportunities to deepen their dance and their understanding of themselves. Ultimately, I'll be happy if I can provide a platform for more people to experience some of the aspects I most love about tango: a sense of flow and connection to other people, community, history and culture, and ourselves.
About Liz Sabatiuk
Liz Sabatiuk is Queer Tango Program Manager at Tango Mercurio. She began her tango journey in 2005 in Montevideo, Uruguay, the lesser-known co-birthplace of tango across the river from Buenos Aires, and has been continuing it in Washington, DC, since 2008. Liz values and cultivates versatility, honesty, playfulness, and musicality in her classes and on the dance floor.