Chamuyo Internatinal Queer Tango Meeting – Review
Festival review by Margaret Trotter / Queer Tango London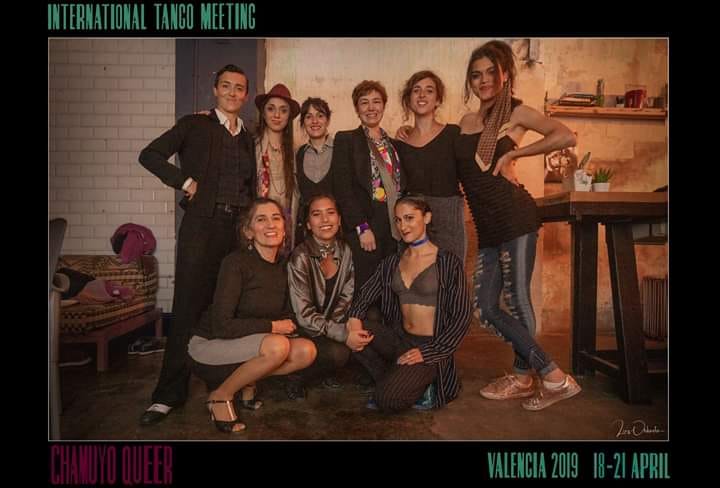 The Chamuyo queer tango crew. Photo: Luis Orlando Martinez.
Chamuyo International Queer Tango Meeting – Review
A dancers thoughts on
Chamuyo International Queer Tango Meeting – Valencia, April 2019
Recommendation: Run to book the instant the next one is announced!
Organised by Colectivo Orquesta de Señoritas, a collective of SIX dissident, dyke and generally non-conformist women: run like a joint venture between Queer Tango organisers from Madrid, Valencia and Barcelona, we have a lot to learn from this model of collaboration[1]. They are a genuinely friendly team that enjoy themselves and carry us all along with them.
Olaya Aramo, who introduced Queer Tango to Spain, has the perfect venue, the Ruzafa School in Valencia, where she runs her weekly class and Milonga every Thursday. The festival took over 3 ground floor studios and the bar and such was energy of the team and the enthusiasm of the visiting dancers, that they threw an afterparty milonga next night and the day after that we received an invitation to intimate tango salon at Olaya's home that she shares with fellow tango dancers, open to all dancers who were still in Valencia. It was a privilege to dance with this tango goddess in her own home. All this coming from the surge of emotional good feeling that arose from the festival. No one wanted it to end.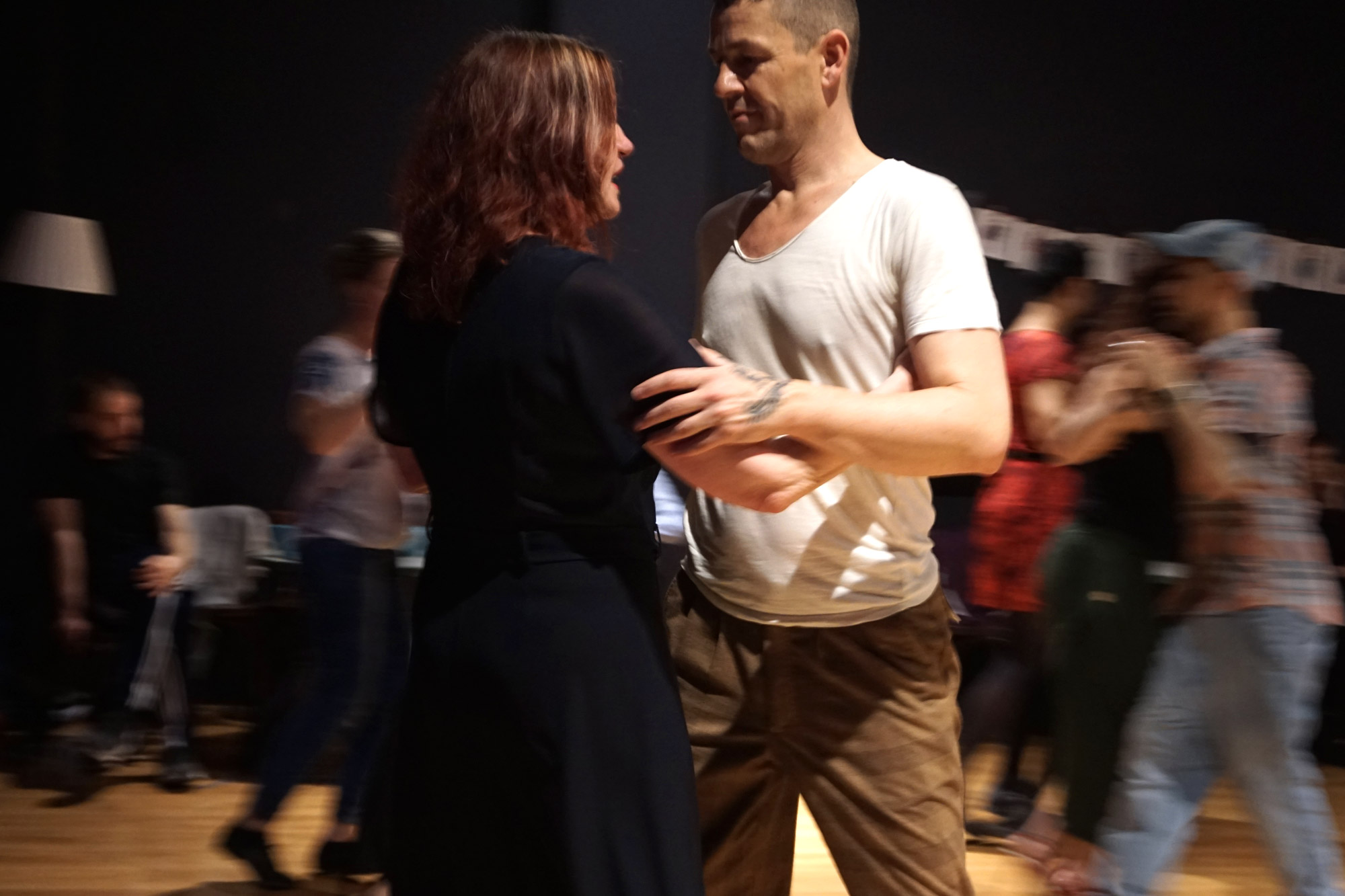 Chamuyo International Queer Tango Festival 2019. Margaret Trotter and Arno Plass dancing at Ruzafa School. Photo: Birthe Havmoeller
What Do You Get at Ruzafa School
A weekend. Two nights of milongas and two in daytime, one outdoor afternoon milonga at the Port. Too cheap at 55 euros in advance, the price also included a Saturday afternoon communal meal of giant Paellas. Come a day early and add Olayas Thursday night class and Milonga, a steal at 10 euros, to have a lesson with a tango superstar, to greet fellow travellers and meet the local dancers. It was the youngest crowd of any tango festival I have attended, yet also had a wide spread of both age and ability. You can even sleep over, yes, bring your own bed roll and for five euros, when you've danced to a standstill you can drop to sleep. This ingenious offer meant no was excluded because of the cost of a bed. Accommodation in Ruzafa area generally is cheap and plentiful consisting mostly of charming apartments in period buildings, all walkable to the venue.
The festival invited international tango teacher Lucas de BuenosAires, who ran two, very well attended classes for beginners and to intermediate level. The festival will grow fast and other classes may be added, I hope also a city dance walk, as we have experienced in Berlin and Paris. Anyone who saw the tantalising short video adverts that the Valencian team put together will want to dance in these same locations…look at the festival website now http://chamuyoqueer.com/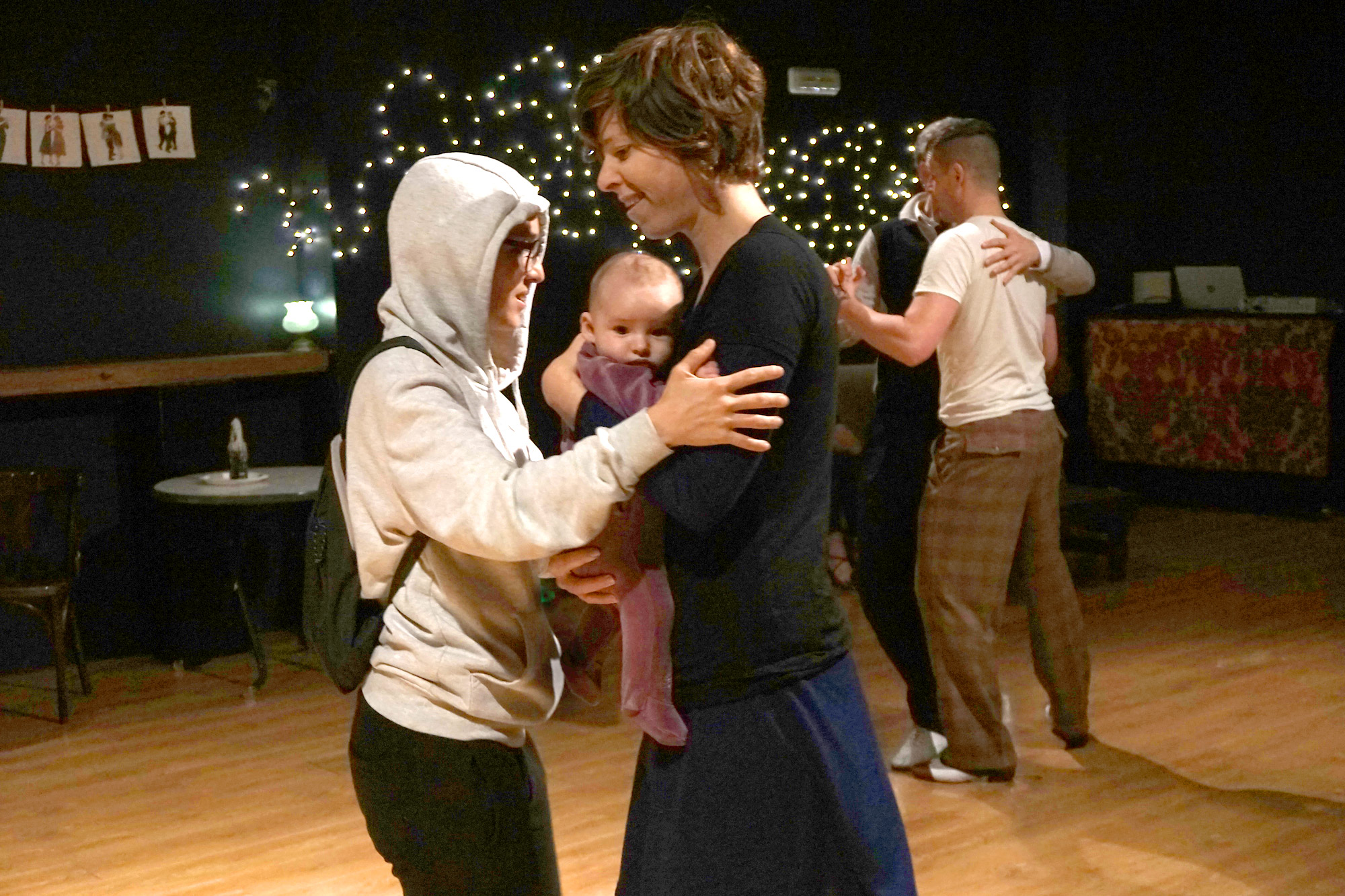 Chamuyo International Queer Tango Meeting. Dancers at Ruzafa School. Photo: Birthe Havmoeller.
Who Else
I hung out with Birthe from Denmark and met Miguel, now resident in Sheffied.
Arno and Sabine from Vienna and Demitri, now resident in Munich, all ambassadors of queer tango involved in queer tango cultivation. Carles a Queer Tango London dancer, who has recently returned to live in Valencia, met a huge number of Spanish dancers for the first time. We are plotting our return and I am thinking about what can develop from a new friends model.
With an average age around 30 this must be one of the youngest crowds at a festival and this new generation of dancers bring casual style. I had expected a higher ratio of women given the organisers were queer female feminists, yet women to men gender balance was about equal with a smattering of trans dancers. Mood was inclusive and generous with all combinations in evidence and no one left for long in their seats. Take a look at the festival photographs by Luis Orlando Martinez, a gifted tango photographer with an eye for portraits that capture the concentration and the bliss.
There's more,
A queer tango conversation:
30 people joined an International round table discussion led by Olaya, a conversation about queer tango: a space to exchange opinions and experiences about queer tango as a political, intellectual and artistic event. What's going on for you? I told them about how Queer Tango London are being courted and paid by our largest arts institution, to deliver gender neutral tango lessons, and milongas now several times a year at the Royal Festival Hall on Londons Southbank. The next event is on 25th August 2019, bank holiday weekend. Advertised as Queer Tango on the Thames, we will dance on the outdoor terrace from 4pm in the afternoon to 1am next morning with a lesson, musicians and a dance performance.
Punching well above our weight, in contrast to our small weekly practicas, these Southbank events attract hundreds of dancers and we teach dual role and queer techniques to mainstream tango dancers and so spread the acceptance of queer dance. This is a model that could be replicated in other countries. Our cultural institutions are funded to promote inclusion and equality. February is LGBT History Month in England when all the cultural houses are looking to host queer events. The door is open for this type of arts education method of funding queer tango. The discussion moved on to a queer tango event hosted by [Maite Ladobarro] at a socialist trotskyist venue in Buenos Aires and commentary on capitalist and alternative political models, and shifted from the mainstream to men in heels. Olaya recorded the conversation, might it become available as a podcast?
Whats next?
There has to be another festival here soon, and it has to become an annual event in our QT calendar. There is talk of Chamuyo Queer Tango Festival moving around to other cities, and absolutely I would go for that family of all ages spirit of inclusiveness and fun. But I want to come back here, Valencia is a city that as soon as you arrive, with all there is to see and experience, you know you will be coming back. I did not even try to cram it in. It rained so the tapas tours, the city walks, the park cycling and the galleries and architecture, will all be there for my next trip, and my tango was the better for that total emersion, such was the enthusiasm the nights never ended. The dance venue is in the old part of hip Ruzafa, where beautiful period apartments, shutters, wrought iron balconies, enhanced with modern comforts look onto tree lined streets. Gaze down onto masses of tiny interesting bars and cafes and people relaxing back. All these temptations for the next time because of this inaugural festival. It's too hard to describe, in this short note, the layers of pleasure we experienced, and we will be coming back for more.
Go to
The Queer Tango Project for the queer tango festival calendar and more on queer tango history. Maintained by Birthe Havmoeller the creative founder, and co editor of The Queer Tango Book and co-moderator of The Queer Tango Conversation on facebook there is no one better informed.
And let's all think of ways to fund the creatives, teachers, organisers and musicians ongoing to grow our inclusive tango community.
Margaret Trotter / Queer Tango London, April 22, 2019
Note
1.
Collaborators included [as on the photo at the top of this review]: Manuela 'Manu' Sanz, Olaya Aramo, Dafne Saldaña, Lucas de BuenoAires, Paula Maján, Valentina Molina, Mercedes Santo-Tomásn, Irene Z. and Melania Beraldo. And visual artist and dancer Alfonso Del Moral (who is not on the photo).