International Summer Retreat: Both Role Tango, July 20-25, 2020
International Summer Retreat: Both role Tango July 20-25, 2020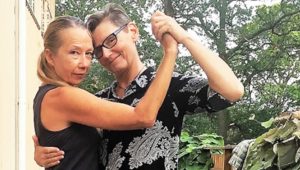 Welcome to an international tango summer retreat lead by Brigitta Winkler (Berlin/New York) and Malin Backström (Stockholm).
This is a retreat for tango dancers who dance both roles. The level will be medium/advanced, but you don't need to be equally experienced in both roles. The course will be held in English.
Every day starts with a Body/Mind morning session, followed by an explorational-conceptual tango class. In the afternoon, there will be a more "strictly tango"-class. Every evening ends with a practica, and one evening we have an open milonga.
Brigitta Winkler and Malin Backström are both experienced and passionate teachers, and have been exploring and teaching tango for many years.
Besides dancing, you can enjoy our good food and our beautiful surroundings – we have a castle on the property, a sauna by the lake and nature paths for walking.
Apply for the Tango Retreat by March 31st!
TEACHERS: Brigitta Winkler and Malin Backström
LANGUAGE: English
REGISTRATION: The registration is open now. For this course, apply no later than March 31, 2020.
PRICE: 2 000 SEK + a registration fee, including six lunches. Accomodation is not included.
PARTICIPANTS: Maximum 40
TIMES: Monday 13.00–22.00, Tuesday–Friday 9.30–22.00, Saturday 9.30–13.00
VENUE: The Gymnastics Hall, Wiks Folkhögskola, Sweden.
To apply for the course, you need to register an account in SchoolSoft. The instruction for your registration is only available in Swedish at this time. If you encounter any difficulties with your registration, please feel free to contact us at +46 18 611 66 50. If you do not have a Swedish social security number, fill in your date of birth (YYMMDD) followed by TF00 to register correctly.
Read more about the registration and accomodation (hostel bed or standard hotel room) see: the facebook invitation.
If you have questions regarding accommodation, food preferences or allergies, please contact Wik Castle reception at +46 18 611 66 60. The school reserve the right for any changes.