New York Queer Tango Travel Tips
Text: Phi Lee.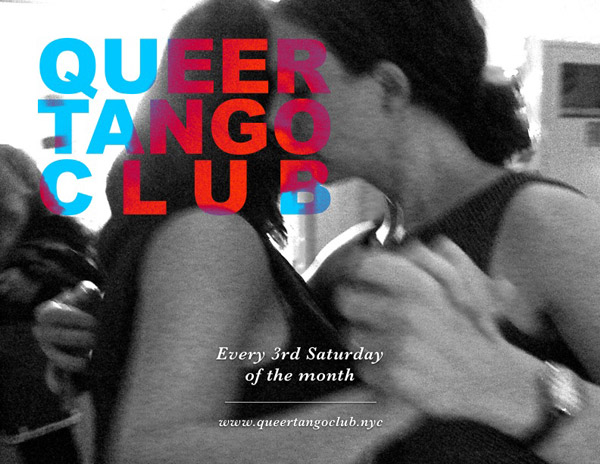 October 2015 saw the 2nd Queer Tango Festival in New York City after 5 years of hiatus. There had been attempts at starting a Queer Tango scene before, however it never took off perhaps due to the overwhelming number of pre-existing milongas that were already open to same sex and non-traditional gender role dancing. Now thanks to Walter Perez and Leonardo Sardella, the organizers of the 2015 festival, the wave has finally propelled an emergence of a new Queer Tango movement in this wonderful city.
We look forward to meeting everyone at our 3rd Queer Tango festival on the first weekend of October 2016!
In the meantime, if you are visiting the city …
Queer Tango Club hosts a queer community centered milonga that takes place every third Saturday of the month at the LGBT community center. It is an intimate, and friendly environment where everyone is welcome regardless of skill level, gender or sexual identity. There is a potluck, and a pre-milonga class taught by a guest teacher. To receive the latest news and events, check out our website at www.queertangoclub.nyc or our facebook page at www.facebook.com/nycqueertangoclub.
Tita Queer Milonga hosted by Walter Perez and Leonardo Sardella is a once a month queer tango event with pre-milonga classes taught by Walter and Leo. They are currently looking for a new home. Join nyc queer tango facebook page to be informed of their next event and all events related to queer tango happenings in the city at www.facebook.com/groups/nycqueertangoclub.
Rainbow Tango hosted by Jack Hanley is an open role milonga held every Tuesday night at El Cid, a tapas restaurant in Chelsea. Jack teaches the pre-milonga class. Crowd is friendly and mixed. Check out their facebook page https://www.facebook.com/rainbowtangonyc/ for updates and special events
Milonga Falucho at Café Argentino in Brooklyn, and Kaña Dulce Tango at Kaña Tapas Bar are two open role milongas hosted by Sidney Grant and Renee Rouger, every Monday and Thursday night. Sid teaches the pre-milonga class with his partner Claudio Marcelo Vidal, which is often popular with the queer crowd.
Best place to find detailed and updated information on all new york tango events is newyorktango.com