Queer Tango Featured in Book on Ageing and Wellbeing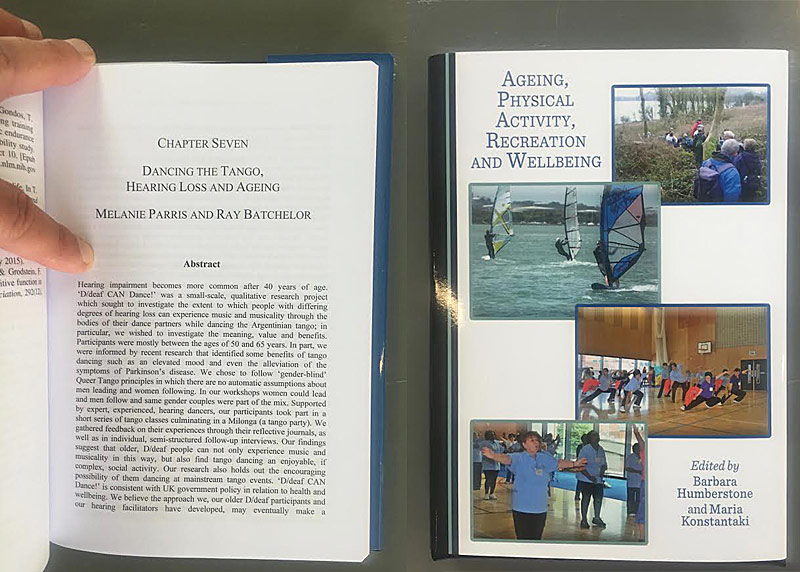 Image courtsy of Ray Batchelor.
Historian and queer tango dancer Ray Batchelor says, "I am delighted to report that a chapter describing "D/deaf CAN Dance!" – a research project I ran jointly with my deaf academic colleague at Bucks New University in the UK, Melanie Parris – is described by us in a jointly-authored chapter in the book Ageing, Physical Activity, Recreation and Well-being published this September (Cambridge Scholars Publishing, 2016). Melanie and I explored the possibility of using queer tango to widen access to the dance-floor to deaf people and to experiment with experiences of musicality through the bodies of other human beings." Ray says their work is on hold at present as the funding has run out, but publicity like this means the model is out here for others to use if they want to. This video explains what they did: D/deaf CAN Dance! "And I'm still looking for ways to use queer tango with deaf people." says Ray, who worked with fellow queer tanguero, Matt Coombes, to support two deaf dancers from the group Deaf Men Dancing who devised and performed a queer tango with sign language at the Mayor of London, Sadiq Khan's recent National Paralympic Day and Liberty Festival in London September 2016.