Queer Tango Festivals Postponed to 2021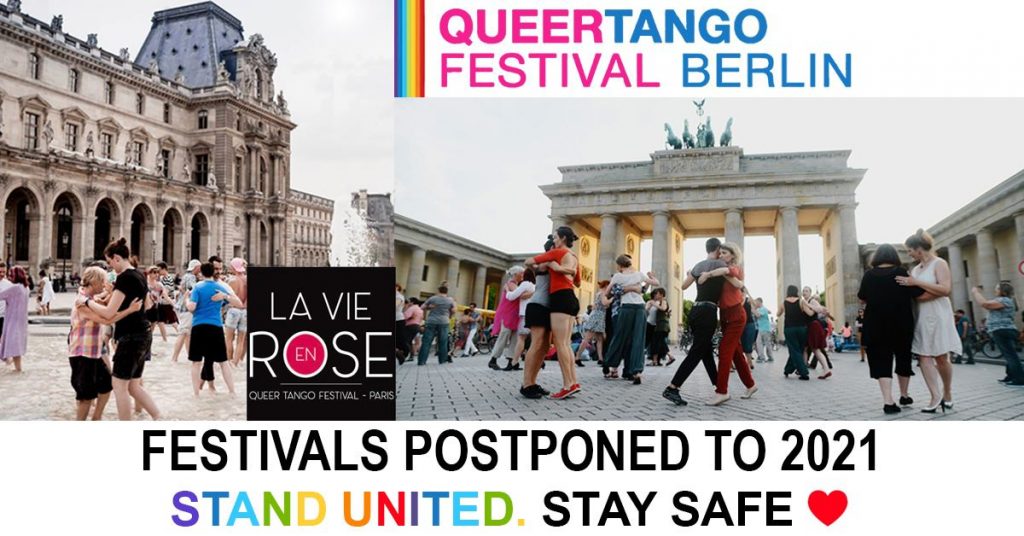 Dearest Queeridxs and open-role tango enthusiasts around the globe,
We hope that you and your loved ones are all well as you receive this message. There was a ray of hope that we might have shared our abrazos this summer in Paris and/or Berlin. But with the public health situation which still remains uncertain for the next few months and large gatherings banned in France and Germany this summer, we have consulted with one another.
It is with immense sadness that we announce now the postponement of the 7th La Vie en Rose Festival in Paris and the 10th anniversary celebration of the Berlin Queertango Festival until next year. Everyone's safety comes first and social/physical distancing and tango do not mix well.
Our teams had been organising these events for months. We had prepared fantastic programmes that we hope can take place in 2021 again. The rest of 2020 looks difficult and uncertain. This storm is affecting us all and we will have to get through it together.
We are already working with the artists booked for this year to see if they can come 2021 and we hope to provide an update on the global situation in December 2020.
Our thoughts go towards other queer tango organisers as well, and especially our artists who are particularly badly hit. Please support them however you can. And looking ahead, we hope to see you all at the next tango queer events when they can take place again in the future. Until then, stay safe and take care of yourselves and your loved ones. We are together in spirit and you are all in our hearts and thoughts.
With love Astrid Weiske & team – QTFestival Berlin and
San Fede, Donald, Chantal, Vincent and Peggy – LVR Paris LVR
The 7th La Vie en Rose à Paris festival (aka LVR7) is postponed to 1 – 4 July 2021.
The 10th anniversary of the Berlin Queertango festival is postponed to 8 – 12 July 2021.
Photo credit: Camille Collin / Ksusha Ivanova