TANGO ENTRE MUJERES at the 10. Buenos Aires International Queer Tango Festival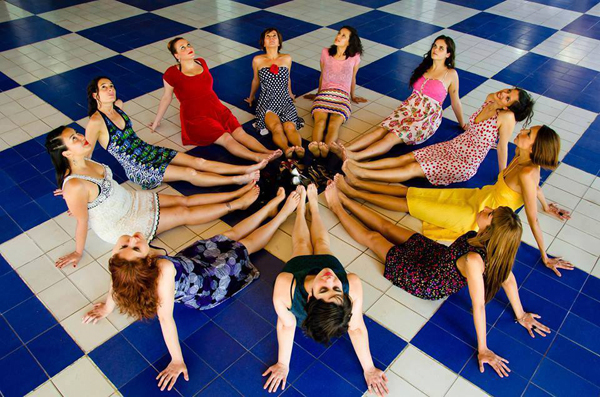 Tango Entre Mujeres at the 10. Buenos Aires International Queer Tango Festival!! Thursday November, 17 at "Milonga de Gala". Venue: Milonga de los Zucca, Buenos Aires.
TANGO ENTRE MUJERES
Mariana Docampo: The independent group "Tango entre Mujeres" ("Tango between Women") formed last year in March (Women's Month, 2015) as a project initiated by Soraya Rizzardini González and Anahí Carballo in order to show, by means of dance choreography, women who can and want to dance among themselves, making the tango visible as a social dance with human and dynamic language, libertarian and equal, thereby contributing to the easing of entrenched traditional cultural canons. The debut of the company was on August 8, 2015 in the "Encuentro mestizo milonguero" ("Mestizo Milonguero Meeting") in the "Project Mestizo" Dance School, and from there they performed in the following milongas: "Techos Azules ("Blue Roofs")," "Tango Queer," "Domilonga," "La Catedral" and exhibitions in spaces that commemorate International Women's Day and the fight against trafficking. In August 2016 they were selected to participate in the Ninth Dance Congress organized by EDTA (School of Traditional Argentine Dance) "Jose Hernandez" in the city of La Plata, making their presentation on September 9. On October 27 they have been invited to participate in the fifth edition of the "Patricios Park" Festival. On October 29 they will perform at Museum Night at the Buenos Aires Educational Center of Tango, and on November 11 will show their choreography at the third edition of the Conference of Folklore and Folk Art for Identity (FAPI) in the National University of the Arts School of Folklore. Dancers: Analía Vázquez, Antonela Pallini Zemin, Celeste Rodríguez, Edurne de Lasuen, Karina Macchioli, Katerine Richard, Laura Mellado, Laura Lila Szarfmeser, Mariné Sardaña Closas, Patricia Lasca, Soraya Rizzardini González and Valeria Scheidegger. Direction and choreography: Anahí Carballo.