The Football Tango Project at St George's Park
Article by The Football Tango Project, England
The Football Tango Project at St George's Park – "The Home of English Football"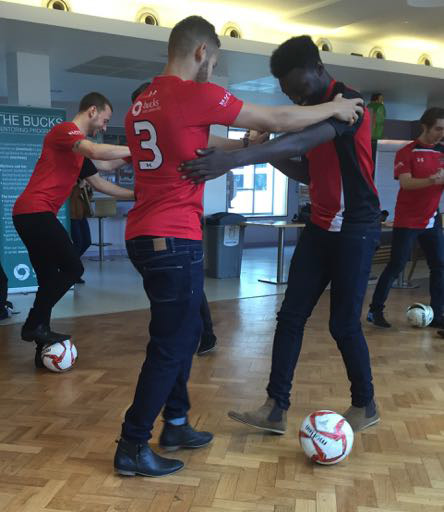 The Football Tango Project is a Bucks New University research initiative. We help sharpen players' physical reactions as footballers through dancing tango with each other. We ask them afterwards how they think football can rid itself of homophobia.
Jack Badu and Ray Batchelor, joint leaders of The Football Tango Project would like to thank everyone from Bucks New University and from football itself who has contributed to the progress made this year!
Completion of the Pilot Stage
Thanks to the generous support of volunteer Bucks FC players, we ran two successful development workshops. This research was made possible because of ESAP Research Funding from Bucks New University.
Outcomes?
• A workable model of how these workshops can be run which we are now taking outside the
university
• The development of tango-based football practice drills by Jack Badu. The value of these unique
exercises to players on the field was immediately grasped by the footballers themselves.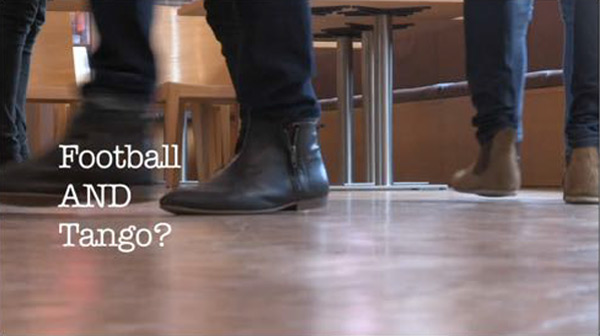 Terrific Short Promotional Video
Made by filmmaker, Alan Stepney, and camera man, Falk Hagen Bernhausen, both professionals and both of whom donated their skills in support the Project: The Football Tango Project trailer.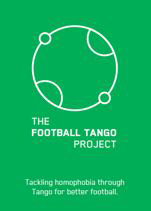 Project logo and promotional materials – by ex Bucks Graphics student, Hanh Pahm.
Outcomes?
• Valuable materials which give the project identity
• The video acts as an effective 'calling card' which explains in three minutes just what we are doing.
Went to "Football as Inclusive Leisure" Conference
This conference organised by Stefan Lawrence of Southampton Solent University looking at "the usefulness of football as a vehicle for inclusion" Made approaches to a range of organisations and
individuals.
In looking to find contexts where the Football Tango Project Workshops might be taken up, we have made a series of approaches.
Football Beyond Borders – Jack is now Head of Coaching Outcome:
• A network of contacts in the professional, voluntary and campaigning sectors in football in the
UK.
An invitation to run Workshops for Homeless
FA Having developed what we believe to be a credible set of practices for our workshops, we are delighted to announce that we are now in discussion with Homeless FA, the successful UK charity which uses football to help young people passing through homelessness.
These discussions should mean that the Football Tango Project will feature in Homeless FA's 2015 Team England Day at St Georges' Park ("The Home of English Football") in December 2015. Gareth Parker, the Director of Homeless FA described this possibility as 'very exciting' – and we agree!
What Next?
• Other contexts for the workshops?
Learning from our experiences with Homeless FA, we hope to be able to offer our workshops in further contexts where football is recognised as a force for good, and where there is a willingness to do something practical to counter homophobia and foster inclusivity in the game.
• Professional players?
We are keenly aware of an aspect of the Project aspired to – working with professional players and– which we have not yet achieved. We are in dialogue with our contacts and hope to make this significant move.
• Formal research outputs?
Once these developments are in place, we hope to fulfil our aspiration to spread the word about his work through formal research publications, as envisaged at the outset.