The Queer Tango Salon: Connecting Bodies of Knowledge, Paris 2016 – a Great Success!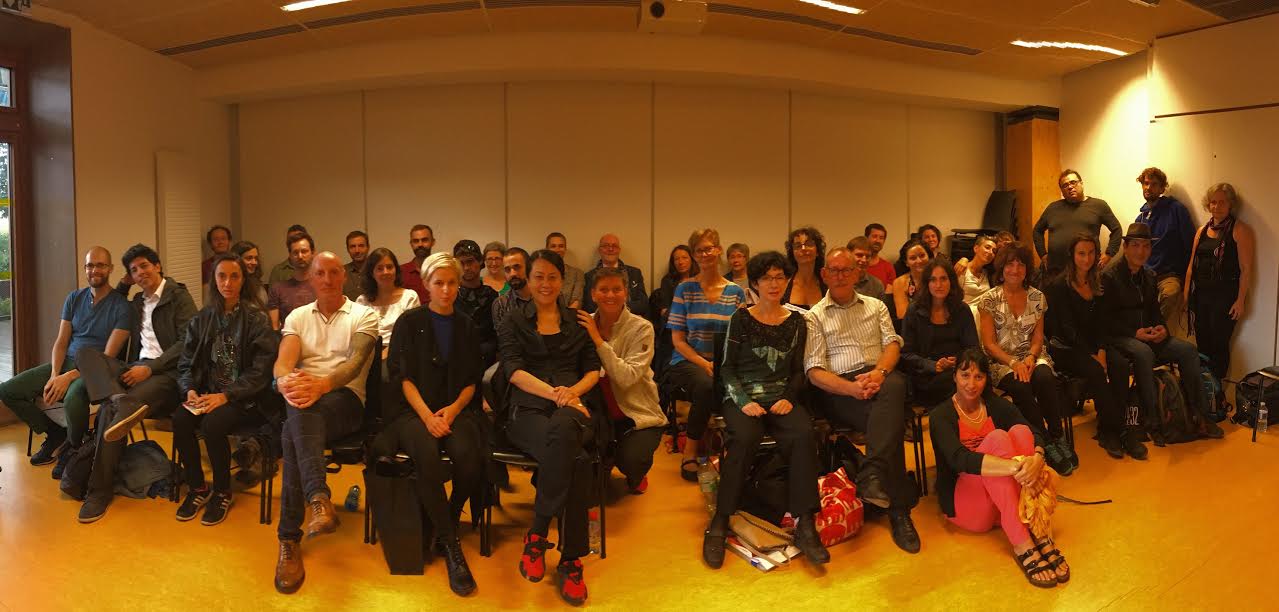 The Queer Tango Salon, Paris 2016. Photo courtesy of Astrid Weiske.
Ray Batchelor: The Queer Tango Salon was an International event designed to bring queer tango activists and interested academics into the same space and to encourage them to debate with one another and to dance with one another.
The schedule included not only stimulating keynote contributions from Astrid Weiske, organiser of the famous Berlin International Queer Tango Festival, queer tanguero and teacher, Gaston Enrique Olguin, but also thought-provoking presentations by Professors Melissa Fitch and Kathy Davis, both of whom published books about tango in 2015, each of which included a chapter on queer tango. In addition, we were fortunate enough to have Edgardo Fernández Sesma come from Buenos Aires to give his unique account of the incredible variety of his queer tango activist activities there. To complete this rich programme were not only of seminar presentations, but also queer tango 'dancing research workshops', where participants addressed research questions through dancing. Finally we danced every night, either at Paris milongas or at our own 'Practilonga' on Friday night.
By most of the criteria we, the organisers: Hélène Marquis from Université Paris 8, Jon Mulholland from the University of the West of England, Bristol and myself from Bucks News University near London, can think of, we think The Queer Tango Salon really was a success!
We had hoped for perhaps 30-35 delegates – by the close we had 65 people who had registered. Of those, there was a good mix of activist queer tango dancers and teachers AND academics in rich variety. As the programme shows, in addition to activist contributions we had seminar and workshop items from:
social scientists
a geographer
a literary critic
a linguist
a management specialist
an art historian
a designer
..and a design historian
The standard of workshops and of seminar papers was consistently high.
The moment at which I believed I could see that we had probably achieved in no small measure our objective of inviting these people from these two worlds of the activists and academics to come together was at our Practilonga. This is where I must thank with all my heart the queer tango dancers of Paris, some of whom joined us for the whole event, but even more of whom came to, turned up, supported our Practilonga and danced with us and I should like to thank them for being exemplary queer tango hosts to us, not only at this formal part of the programme, but also at the two Parisian milonga 'outings' on Thursday and Saturday evenings.
By the last seminar session of the second day, Saturday, when we had expected that perhaps our delegates might have drifted off to get on with their lives (the 'Graveyard Slot' which Jon Mulholland and I gave ourselves) there was not an empty seat in the room – perhaps 50 people in all. And I cannot close this dangerously self-serving account without also thanking everyone who came, and who contributed not only to the high level of debate which occurred, but brought to the event goodwill, energy and a positive mood to the whole undertaking.
On behalf of my fellow organisers I would like to thank everyone who came to what we are increasingly thinking of as the FIRST Queer Tango Salon: Connecting Bodies of Knowledge and made it what we gradually permitting ourselves to think of as a success.
We are already planning another in London in 2017.
What people said about The Queer Tango Salon:
From Astrid Weiske, Keynote Contributor and queer tango teacher, organiser of the famous Berlin International Queer Tango Festival,:

It was a fab weekend of seminars or workshops of The Queer Tango Salon: Connecting Bodies of Knowledge! here in Paris – great lectures, wonderful encounters and exchange of ideas, theories, practice and of course dancing… different kind of genres of research, very inspiring and buena onda. 🙂
From Professor Melissa Fitch, University of Arizona, Keynote Contributor and author of Global Tangos: Travels in the Transnational Imaginary:
A wildly successful and intellectually enriching gathering in Paris hosted by Ray Batchelor (Bucks New University, UK), Jon Mulholland (University of West of England, Bristol, UK) and Helene Marquié (Université Paris 8).
Gaston Enrique Olguin, queer tango maestro and Keynote Contributor:
…I want to thank the organizers for giving me the opportunity share some of my ideas at The Queer Tango Salon and to do so in a context which is new to me, where each of us expressed their ideas freely and each listened to the other. The discussions, intimacy and freedom of expression in this beautiful community helps create different types of relationships. Thank you very much for helping queer tango continue to grow in different directions and to make sure it is not only about dancing. I am both very happy and proud to have been a part of this development.
From Special Guest, Edgardo Fernández Sesma, queer tango activist in Buenos Aires:
A Cool Salon Tango ", Paris 2016. … It has been a very enriching meeting for me and I am grateful, now not only to Ray Batchelor, but also to the people from different countries who were interested in what we do in Buenos Aires, in the spaces of socialization of tango queer, beyond the milongas, and in our campaigns of solidarity. Thank you again to Miguel Kanai, for his translations and giant congratulations to Ray Batchelor for the enormous amount of work well done to get to this international gathering of great prospects happen.
Dr Marion Kauthaker, who supported, designer, Matt Coombes in delivering a dancing workshop on dancing with re-designed bodies:
Very proud to have been part of this great event: thought-provoking papers, sessions and contributions, beautiful and diverse people, very important discussions, ideas and practices that challenge tango codes and social norms. Right up my street as an academic and semi-retired tango dancer! I am left with ideas, questions, frustrations and a need to do this again.