EL libro de tango queer – progress report and a call for help!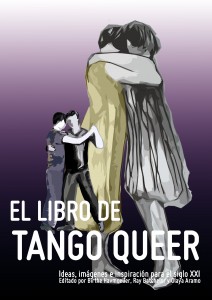 Earlier this year we launched a book project: the Argentine Spanish edition of The Queer Tango Book, El libro de tango queer.
Candidly, the progress of this book project is not as much as we had hoped. Changes of life circumstances for key figures in the production process have meant work has recently slowed and then faltered. Even so, parts of El libro de tango queer are now translated, corrected and ready to go. Rather than delay further and wait until the whole book is in that state, The Queer Tango Project has decided to make this material available now on the website while the rest of the book is "under construction". In this way, the essays in Spanish can be read, and the rest – where, for now, we have listed the English titles – will be replaced with Spanish versions, as and when they are ready for publication.
We would like to thank everyone who has helped us get us to this point, not least the original contributors and those who have helped us with language work.
If you are interested in helping us with these last stages of production – principally, getting the remaining material into good Argentinian Spanish – we would like to hear from you now!