We Postpone Festivals to 2022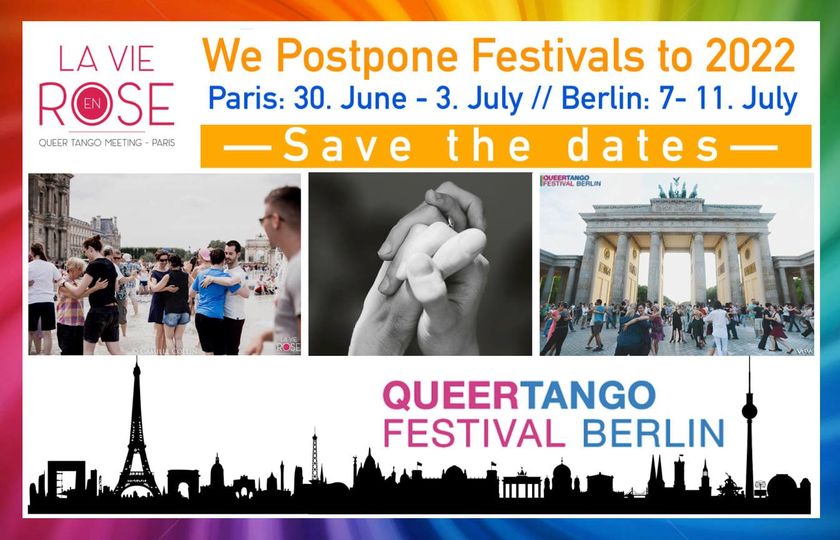 Save the dates, promotional poster. Photo credit: Camille Collin / Ksusha Ivanova.
Dearest Queeridxs and open-role tango enthusiasts around the globe,
Spring is finally here, we hope the sunshine will give you the comfort and hope you need to see better days. First of all, we would like to have a thought for all those who have gone through difficult times because of the global context. A special thought to all of our artists who had to adapt, reinvent themselves, hang on to a world where all human warmth was suddenly banned. We also want to support all queer tango associations, organizations, schools, festivals and marathons around the world that have had to face the crisis and will find themselves facing the same dilemmas as ours.
Right now, the world is racing against the pandemic, and the vaccine gives us a glimpse of hope. Unfortunately, we must not forget that most European countries are extending their vaccination campaigns until the summer. Finally, according to current government standards, festivals this summer would be authorized according to certain constraints (reduced capacity, seated public, sanitary distance, impossibility of bar / catering).
In this context, we believe that the best option is to postpone our festivals until next year. This is a very difficult decision for us because we would have liked to bring you some good news for this year.
Fortunately, we invite you to mark the dates of our meeting in 2022 in your agendas. We are sure that it will be the year of joy:
La Vie en Rose International Queer Tango Festival 30 June – 3 July 2022
International Queer Tango Festival Berlin 7 – 11 JULY 2022
We, Berlin and Paris teams will work hand in hand to provide you with a quality event under the best possible conditions.
Of course, we will get back to you very soon, before the end of the year with more information.
Until then, we wish you great things, great projects and probable dances …
With much love
Astrid Weiske & team – Queertango Festival Berlin
San Fede, Donald, Chantal, Vincent and Peggy- LVR Paris LVR