Book Project: El libro de tango queer
The Queer Tango Book – Ideas, Images and Inspiration in the 21st Century edited by Birthe Havmoeller, Ray Batchelor and Olaya Aramo was published in March 2015 by The Queer Tango Project as a free ebook in English.
We are working on a Spanish edition of the Book titled, El libro de tango queer – Ideas, imágenes e inspiración para el siglo XXI. The translation is unfortunately taking longer than expected, so we have decided to share essays of the Book, piece by piece, as soon as each piece is ready for publication. Later, as originally planned, we will publish El libro de tango queer as a traditional free ebook for download.
El libro de tango queer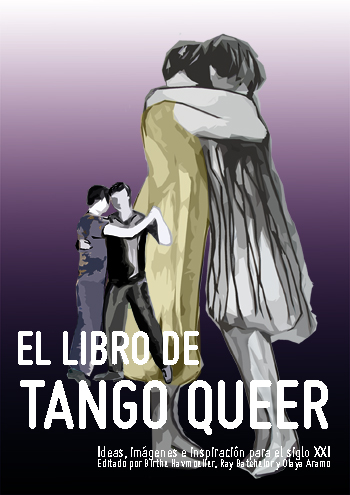 Contents:
Prologue
El tempo del tango
Kristín Bjarnadóttir
Luc y Bernd – una foto
Marc Vanzwoll
1. ¿Qué es el Tango Queer?
Queer Tango Dancers in Buenos Aires – Watercolours
Susana Romero
El tango queer y el abrazo efímero
Birthe Havmoeller
Bailarinxs de tango queer – portafolio
Laura Valentino
2. Bailando de forma diferente
Cómo el tango queer cambió mi vida
Alex Gastel
Seguí desde el principio
Paul Fairweather
Tor y Hartmut – dibujo
Susana Romero
Las masoquistas del tango
Carolina De Beus
Mujeres heterosexuales en el tango queer
Sasha Cagen y Birthe Havmoeller (ed.)
Retratos de tango – fotografías
Carlos Blanco
Mi relato del tango queer: cerca y lejos de Buenos Aires
Miguel Kanai
3. Repensando el baile
Cómo hacer más queer el tango queer: estrategias queer para bailarines de rol dual
Birthe Havmoeller
Efectos problemáticos de la terminología "leader/follower"
Juliet McMains
Retrato de tango – fotografía
Sofía Silva
Coming Out to Dance: or getting it straight – a re-examination of the relationship of Queer Tango to the tango mainstream
Ray Batchelor
Tango Queer en Londres – portafolio
Denise Lew
El tango milonguero y el tango queer: un ensayo reflexivo
Gigi Gamble
Hilda Hisas: pastels and an artist statement
Hilda Hisas
Queer Canyengue Manifesto
Olaya Aramo y Belén Castellanos
4. Rendimiento
Tango Con*Fusión turns 10
Chelsea Eng
Cristiano Bramani and Andrea Cesarini – Photographs
Laura Valentino
Entrevista Claudio González: experiencia y visión de un bailarín queer profesional de tango
Olaya Aramo
Con Artist: pinturas
Con Artist
Una ojeada a la vida de una adicta al tango queer
Con Artist
Tango Fem Creating Gender Trouble in Rome
Mila Morandi and Giulia Cerulli
5. Ambiando el mundo
Queer Tango as a form of struggling with patriarchal norms – notes on the Queer Tango in Russia
Natalia Merkulova
Queer Tango Dancers in Russia – Portfolio
Alice Heigh
Queer Tango as a Tool for Change: a case for the sharing of insights with others
Ray Batchelor
A Women's Tango Retreat – Breitenbush Hot Springs, Oregon, USA
Laurie Ann Greenberg
Laurie Ann Greenberg: artworks and artist statement
Laurie Ann Greenberg
Los Laureles: tango queer para todxs en el barrio de Barracas
Ray Batchelor and Olaya Aramo
Classes by Tango Libre at Los Laureles – Photograph
Edgardo Fernández Sesma
Biographies